SEO is About Connection and Conversion
SEO for healthcare or any other highly competitive industry is about making connections. Connecting your brand to the right audience. Then connecting your clients needs to the services and products you offer. The SEO ecosystem is becoming more complex and nuanced. A strategic growth partner that understands how to navigate the waters and project your voice is an invaluable asset.

Agile Marketing Group focuses on helping small and medium-sized businesses grow. The healthcare arena is our specialty. If you are ready to accelerate the growth of your SAMH treatment center, medical clinic, dentistry practice or assisted living facilities, it's time to get Agile.

Google is interested in one thing about all else. Ranking the highest quality, most relevant content from the best websites. True SEO mastery isn't about tricks. It's about giving Google precisely what it's asking for and understanding intuitively what that is. Agile understands Google SEO and we understand the behavioral healthcare business intimately.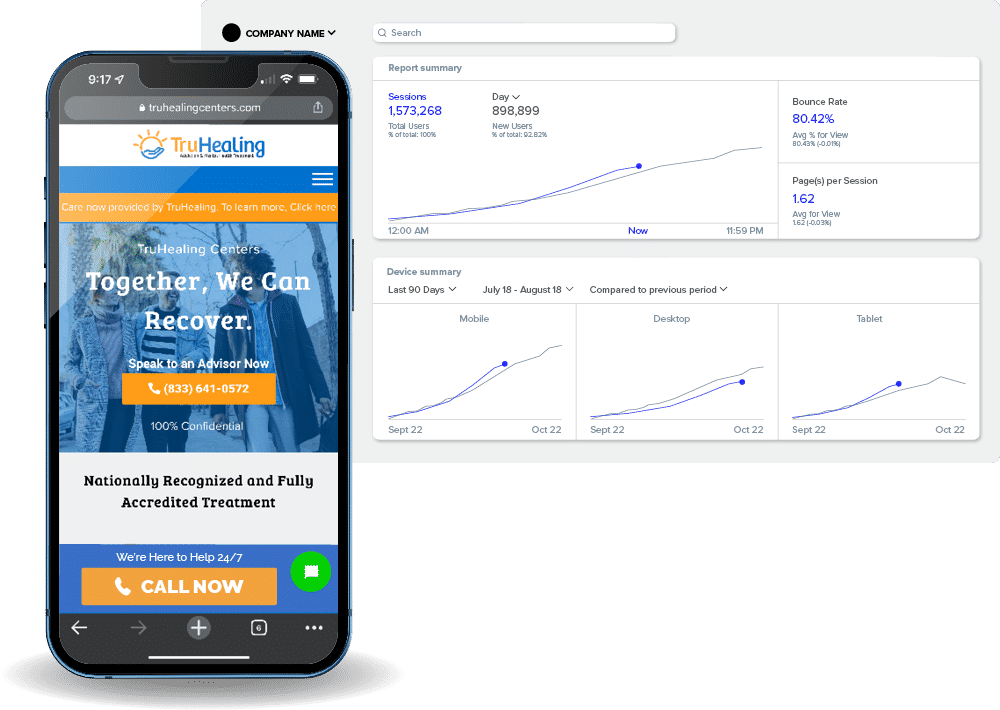 What is SEO?
Search Engine Optimization is the practice of creating and positioning content to optimize it's reach to your desired audience. Google's objective is to provide the most relevant, high-quality results possible to its users. At Agile Marketing Group, our objective is to project your brand, its values and what it offers in an attractive package that converts. Simply put, we give Google exactly what it wants.

The result is the people you want to reach most see your content first. Make no mistake, there is a science to SEO in healthcare and every competitive industry. Google's standards are continuously becoming higher and more refined. It isn't enough just to reach the right people. Your content also needs to give them a reason to pick up the phone. That's where Agile's tailor-made SEO strategies enter the picture.

The complexity of the SEO landscape presents both challenges and opportunities. Google rewards relevant, high-quality content. That gives you a decisive edge—If you have an SEO agency who delivers exactly that and understands your industry and its clientele. That's Agile Marketing Group.

Local SEO
Getting local SEO right is important for virtually any services business. If you can't compete aggressively in your own neighborhood, how will you tackle the rest of the world? Agile Marketing Group SEO strategies for healthcare get you noticed by the right audiences. Well-tuned local SEO for healthcare gives you a genuine competitive edge in your own backyard.

We begin with a site audit and deep-dive research into your local competitors keyword strategies to identify opportunities for growth. We can take your local SEO strategy as far as you want to go. Geo-specific keywords, optimizing your Google Business Profile, leveraging online directories and creating localized landing pages are just the beginning. Getting Local SEO for drug rehabs and other competitive businesses right takes relevant experience.

Agile delivers cost-effective, strategic SEO plans for small businesses that are designed to grow with you. Agile's local SEO solutions will increase your relevant organic traffic, raise your website's authority and deliver a better web experience for site visitors. For medium-sized businesses, we can audit your existing strategies, shore up weaknesses, strengthen assets and jump start your growth.
SEO Content Strategy
This is the golden age of content. Google is recognizing and rewarding high-quality SEO content more than ever before. The days of keyword stuffing and using amateur writers are long over. Google is helping to build a better web for all of us. Agile Marketing Group makes sure your organization has a seat at the head of the table. Our well-researched, authoritative content informs and entertains your target audience.

Competitive digital marketing requires a well-informed content strategy. The SEO strategies we develop deliver higher search rankings and open new avenues of opportunity. Agile's SEO content strategy doesn't impulsively react to trends or ride coattails. It anticipates shifts in search and within your industry and adapts preemptively. That's what being Agile is all about.

Agile strategies for SEO are informed by diligent competitor research and a deep understanding of your business. We drill to the core to grok your brand, we size up and analyze your competition and we get to work. Agile Marketing Group is poised to become your secret weapon in the battle for SERP dominance.
SEO That Delivers Results
Quality SEO is about more than simply reaching the right people. It's about information, emotion and action. Your content has a profound effect on what people know about you and how they feel about your brand. Performative SEO does three things. It ranks, it informs and it inspires action.

At the end of the day, your SEO is only as valuable as the results it delivers. Reaching people and leaving a positive impression is only worth so much if the phones aren't ringing. We get it. Agile delivers your message to the people you most want to reach and inspires them to act. Our collective decades of experience in every aspect of the behavioral healthcare business in particular make Agile uniquely qualified to help your treatment center grow.

SEO content is an investment into your reputation, mindshare and authority that will keep paying dividends—if it's done correctly and ever-evolving. Quality SEO content backed by a strategy gets you noticed. As part of an overarching SEM strategy that includes pay-per-click campaigns and other advertising a strategic partnership with Agile Marketing Group can smash through obstacles to growth.
It's Time for Your Business to Get Agile
Could your healthcare business or growing enterprise use a dynamic and effective digital marketing strategy? Agile Marketing Group is ready to help.
Pay Per Click
Marketing
PPC Marketing management is a core strength for us. Agile delivers impressive ROI with strategies tailor-made for your industry.