PPC Marketing
Most people are keenly aware of pay per click marketing as a powerful tool for fueling growth. Everyone wants a robust return on their PPC investment, but not everyone knows how to get there. Pay per click is not the place to guess and gamble, especially if you're in a highly competitive field like addiction treatment.

Effective bidding strategies and targeting are essential for whoever manages your PPC marketing. Experience in your industry is also beneficial. Winning the day in the Pay per click arena isn't always about who spends the most. It's also about who spends the wisest. You need a partner who approaches Pay per click systemically.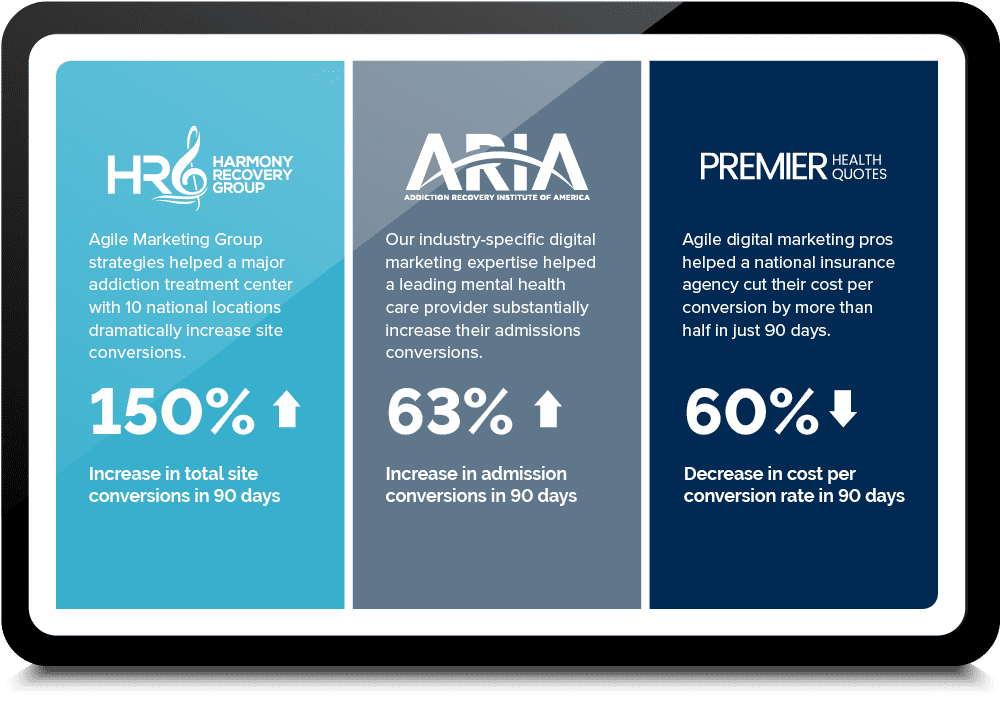 Why Pay Per Click Marketing Makes Sense
Pay per click marketing is an invaluable tool for fueling a company's growth. How important PPC management is to you depends on your industry, the size of your business and your goals. What we do know is that Pay per click advertising is widely considered one of the most successful forms of digital marketing for good reasons. It offers relatively quick results and reliable returns.

You also have a greater amount of budget control than you do with other forms of advertising (you only pay per click).  It's a sure-fire way to gain greater visibility on SERP's while SEO content returns more cumulative gains which take time. This is why having both PPC and SEO firing on all cylinders is crucial to sustaining growth and keeping patients or customers coming in.

PPC advertising is an indispensable form of digital marketing that delivers results with a relatively short turnaround time. It's scientific and data centric. Good PPC management means knowing which questions to ask and where the data points you so you can improve and maintain performance.
Conversion Rate Optimization
Pay per click advertising can be highly effective, but high-performing PPC campaigns take skill to develop and manage. There is a definite science to pay per click management. It follows that a scientific and mathematical approach must be taken to interpreting data to maximize the results of a campaign. Simply put, conversion rate optimization consists of analysis and adjustments made to increase the percentage of site visitors who take a desired action.
For example, increase the number of visitors on your site or landing page who click the "Call Now" button. Continuous testing and fine-tuning to gain advantage are part and parcel of the scientific approach to PPC management. This also means strategy applied to design and deployment of landing pages, advertisements and more.
Once a PPC campaign is in motion, all of these elements work in concert to deliver results. Adept PPC management means both understanding your audience and targeting a message and studying results to optimize conversion rates.
PPC Strategies for Healthcare
Agile Marketing Group specializes in PPC campaigns for healthcare organizations such as health insurance and addiction treatment centers. Our PPC specialists build scalable account structures which adapt to needs and conditions to minimize wasteful spend. At Agile we focus on quality, not quantity.
Lots of traffic to your landing pages, lots of clicks and even lots of calls are fantastic only if they result in lots of admits and customers. Those are the metrics that we are focused on to give you return on your bottom line. We understand the unique nature of the healthcare industry so we are continually driven to lower your cost per goal and improve your results.
Agile is a partner for success in Pay per click advertising and digital marketing as a whole. We are driven to collaborate so we have an open-door policy in all things. We want your input on PPC advertising and we want you to understand the how and the why of the PPC strategies we implement for you.
It's Time for Your Business to Get Agile
Could your health care business or growing enterprise use a dynamic and effective digital marketing strategy? Agile Marketing Group is ready to help.
Social Media Management
Any business in the current era understands social media is a necessity. What most fail to recognize is just how much of an opportunity it represents.